kjohri | Jul 06, 2012 | Comments 4

Delhi, along with Agra and Jaipur, makes India's Golden Triangle tourist circuit. The top tourist places of Delhi are as follows.
Qutub Minar was built during 1193-1386. The construction was started by Qutb-ud-din Aibak in 1193. Qutb-ud-din Aibak was the governor of northern India at that time. He became the ruler of Delhi Sultanate in 1206 and ruled till 1210. The construction continued during the reign of Shams-ud-din Iltutmish during 1211-36 and was completed by Firuz Shah Tughlaq in 1386.
The Qutub Minar complex has the Qutub Minar, the Quwwat-ul-Islam Mosque, Iron Pillar, Alai Darwaza, Imam Zamim's Tomb, Alauddin Khilji's Tomb and Iltutmish's Tomb. The Qutub Minar is 72.5 meters tall and there are 239 steps leading to the top. Qutub Minar, along with its monuments, is a UNESCO World Heritage Site.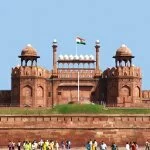 Red Fort was built by Shah Jahan during 1639-48. Shah Jahan developed Shahjahanabad, the seventh city of Delhi and which is the present day Old Delhi. Shah Jahan moved his capital here, from Agra, in 1649. The Red Fort was the royal residence of the emperor.
Red Fort has Naqqar Khana or the drum house, Diwan-i-Aam or the Hall of Public Audiences, Diwan-i-Khas or the Hall of Private Audiences, Khas Mahal palace, Rang Mahal palace, Mumtaz Mahal palace and the Moti Masjid mosque. Red Fort is a UNESCO World Heritage Site.
Jama Masjid
Jama Masjid is the largest and most prominent mosque in India. It was built by the Mughal emperor Shah Jahan during 1650-56. Jama Masjid has a large courtyard, which can accommodate 25,000 worshipers. The mosque has three gateways, four towers and two minarets. The gateways are on the eastern, northern and southern sides. The minarets are 40 meters high. The prayer hall is on the western side. The facade has a beautiful central arch and five arches on each side. There are three marble domes, predominantly white, inlaid with stripes of black.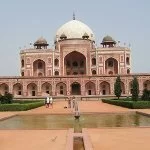 Humayun was the second Mughal emperor who ruled from 1530-56, with a break of 15 years between 1540-1555 during which he had lost his kingdom to Sher Shah Suri. Humayun died in 1556 in an accident as he fell on staircase of his library and sustained serious injuries. Humayun's tomb was built by his widow, Hamida Banu Begum during 1565-72. Humayun's tomb is made of red sandstone with a white marble dome. The facade has arches at the center and sides and is considered an important milestone in Mughal architecture which reached its zenith eighty five years later during the construction of the Taj Mahal. Humayun's Tomb is a UNESCO World Heritage Site.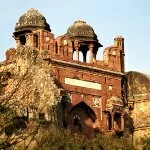 Old Fort is the oldest historic site in Delhi. It is believed that the capital city of Pandavas, Indraprastha stood here about 5000 years ago. The present fort was built by Sher Shah Suri during 1538-45. Old Fort has three massive gateways, Bara Darwaza, Humayun Darwaza and the Talaqi Darwaza. Inside the Old Fort, there is the Quila-I-Kuhna mosque, Sher Mandal and a Baoli, or stepped well. Sher Mandal is a double storied octagonal tower, used as an observatory by Sher Shah Suri and as a library by Humayun, later on.
Old Fort is popular for its excellent environment. It is free from noise and has lush green well maintained lawns. There is a lake outside with an option for boating. There is also a nice walking track around the lake.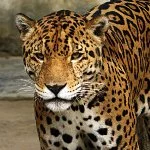 The National Zoological Park, or Delhi Zoo, as it is popularly known, is located just next to the Old Fort. In fact, the zoo contains some ancient structures similar to those associated with the Old Fort. The zoo is quite big, with well laid out walking trails, marked with directions to see different animals. Inside the zoo, an effort has been made to try to create an environment, close to the natural habitat of individual animals. There is a large pond where migratory painted storks come and make nests on trees around the pond. One can see painted storks of all sizes flying over the pond. There are lions, tigers, elephants, bears, deers, rhinoceroses, hippopotamuses, pelicans, giraffes, zebras, jaguars, gibbons, wolves, jackals and more animals in the zoo.
India Gate
India Gate is a war memorial. It commemorates 90,000 Indian soldiers who laid down their lives fighting in World War I and the Third Anglo-Afghan War. It was designed by Sir Edwin Lutyens and was built in 1931. India Gate is 42 meters tall. Underneath the arch of India Gate is the memorial, Amar Jawan Jyoti, the Tomb of the Unknown Soldier. The eternal flame burns here in the memory of soldiers who laid down their lives fighting for the country.
The parks around India Gate make a great landscape where people come in big numbers during the evenings all through the year. It is a great picnic like atmosphere with the ice cream and children's toy vendors doing brisk business. There is a big Children's Park in the vicinity, with swings, slides, seesaws and other play equipment of all sizes and shapes and is very popular with children of all ages.
Bahá'í House of Worship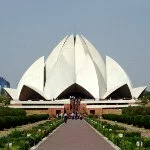 Bahá'í House of Worship is a place for prayer and meditation for all people regardless of any distinction like race or religion. It is popularly known as the Lotus Temple because of its unique architecture in the shape of a lotus flower. The architecture is a great piece of art and the House of Worship provides captivating views from a distance from different places and also from close quarters. The architecture has been described in many technical journals and has won many prestigious architectural awards. It was designed by Fariborz Sahba and was completed in 1986. Since then, it has attracted 70 million visitors and about 8,000-10,000 people visit Bahá'í House of Worship in a day.
Akshardham Temple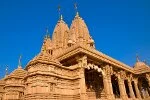 Akshardham Temple complex is spread over 60 acres of land. It is created by HDH Pramukh Swami Maharaj. It was built in a record time of 5 years between 2000-2005. About 11,000 artisans and volunteers worked in building the temple complex. About 70% of tourists coming to Delhi visit the Akshardham Temple.
The main temple is 43 meters high, 96 meters wide and 108 meters long. It is built from pink sandstone and pure white marble without any support from steel and has 234 ornately carved pillars, 9 ornate domes and 20,000 images and statues of Hinduism's saints and great personalties. The Guinness World Records have recognized the Akshardham Temple as the world's largest comprehensive Hindu temple. The temple complex also has exhibitions at Hall of Values, large format (26 meters x 20 meters) film, boat ride experience of India's heritage, musical fountain and gardens.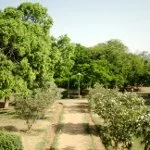 Lodi Gardens is a park, par excellence. It is a historic park spread over 90 acres in the heart of New Delhi. Inside the park, it is a totally different environment. There are lush green well maintained lawns, big trees, walking trails, rare plants and historical monuments. Lodi Gardens was landscaped by Lady Willingdon in 1936 and by Joseph Allen Stein and Garrett Eckbo in 1968.
The historical monuments in the Lodi Gardens are the tomb of Mohammad Shah, Sheesh Gumbad, Bara Gumbad, the tomb of Sikandar Lodhi and the Athpula bridge.
Filed Under: Travel
Comments (4)
Leave a Reply | Trackback URL